The St James Quarter was opened on the 24th of June last year, replacing the old St James Centre that used to be in its place.  It's one hell of an upgrade - the old shopping centre was past its best, and, frankly, a little gross.  The new centre has completely changed the look and feel of the place, and it fits much better alongside all the other beautiful architecture around Princes Street.  The new building itself has an almost open-air feel and is certainly much more open than a typical enclosed centre, but still sheltered from the elements as it needs to be in a city like Edinburgh.
It wasn't without its detractors, though - building a super modern building in an area full of classic, historic architecture is always going to raise a few eyebrows and cluck a few tongues, but I don't think anyone could look at the new centre and not agree that it's a huge improvement on the eyesore it replaced.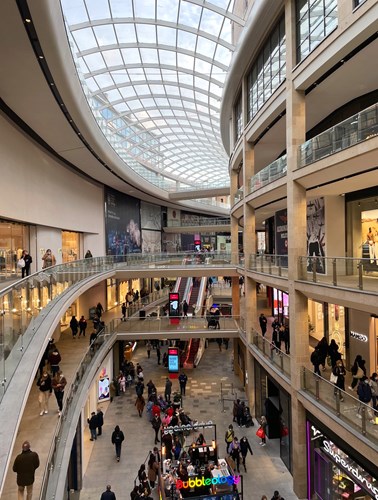 What's not up for debate is that the new St James Quarter has, like, a bajillion times more stuff than it used to, and it goes way beyond what use to be just a shopping centre.  Shops range from the more modest, high-street brands like Mango, H&M and JD Sports, to higher end fare like Kurt Geiger or Kate Spade.  Another area where the new and improved St James sets itself apart from the old, is the inclusion of places to eat.  There is an impressive list of eateries from the usual suspects like Five Guys or Maki and Ramen, as well as some more interesting/unusual options like Salerno Pizza and the Bonnie & Wild Scottish Marketplace (the latter of which has more than a dozen food stalls and seating for 400 people!).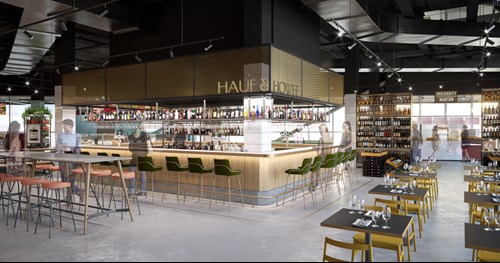 You can do budget dining while having a nip around the shops, or eat somewhere more fancy before a trip to the cinema.  Hadn't I mentioned the cinema?  Well, there's one of those, too.  You can really make a day of it, should you be so inclined.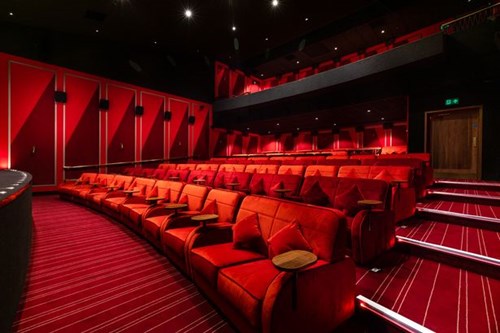 The quarter also offers free mobility scooters plus take the hassle out of carrying your bags with DROPIT service as well as. So many cool services available.
Destiny Scotland apartments are all city centre, and some of these are practically next door to the St James Quarter.  Our St Andrews Square property, for example, is just on the corner of St Andrews Square making it a mere stone's throw from the St James Quarter.  A couple of streets over is our Hanover Street property, and another street past that is our beautiful Chisholm Hunter Suites.  If you want to be right in the middle of Edinburgh's shopping district, then a stay at Destiny Scotland means no need for taxis or any other kind of transport, and you can most definitely leave the car at home (but if you don't want to do that - we have car parking options too!).